Project management
From ideation to realization, we manage your digital projects with expertise and precision.
Design Thinking
Adopt a user-centered approach to problem solving and innovation.
Process automation
Optimize your operations and increase your efficiency with our automation solutions. With the arrival of AI on the Azure OpenAI platform, our experts can help you automate your processes intelligently.
Business application
Harness the power of artificial intelligence to propel your business into the future. Using Azure and OpenAI, we develop solutions that can analyze data, anticipate trends, improve customer interaction and much more. Dive into a world where your business is not only informed, but also intuitive.
As specialist Microsoft partners, we offer you unrivalled solutions and expertise for Microsoft 365 and Azure, ensuring your infrastructure is both powerful and scalable.
Providing experts
We provide you with Microsoft 365 experts (Power platform, SharePoint, Messaging...) to help you accomplish your projects. Our experts are Microsoft certified.
Web solution
We can help you create your corporate or e-commerce website. We've developed extensive expertise in this field. From the ideation phase, through design and implementation of specific functionalities, our experts are there to meet your needs.
Safety
Protect your business against threats with our advanced security solutions, designed to keep your data and systems safe from intrusion.
Project: Intelligent Document Migration and Classification
Context:
A large company in the financial sector has decades of document archives, ranging from contracts and agreements to internal communications and regulatory documents. These documents are stored in both physical and digital form, spread across multiple systems and locations. The company is looking to consolidate, modernize and facilitate access to this information while ensuring compliance and security.
Objectives :
Migrate all documents to a centralized cloud platform.
Use artificial intelligence to automatically classify documents according to content and relevance.
Ensure fast and efficient document retrieval for employees.
Guarantee regulatory compliance and data security.
Project steps :
Assessment and preparation: Identify and assess existing document sources, estimate the amount of data, identify document formats and prepare a migration strategy.
Migration: Use automated tools to transfer documents to a secure cloud platform, such as Microsoft SharePoint. Ensure data redundancy and backup.
AI processing:
Use AI models to read and understand document content.
Automatically classify documents into categories such as "Contracts", "Internal Communications", "Regulatory Documents", etc.
Detect and mark documents containing sensitive or confidential information for appropriate management.
User interface:
Develop an intuitive user interface enabling employees to search, access and collaborate on documents. Integrate AI-powered advanced search features for accurate and relevant results.
Compliance and security:
Ensure that all documents are stored in compliance with local and international regulations.
Implement security protocols to ensure that sensitive information is only accessible to authorized persons.
Use AI to continuously monitor and report any suspicious or unauthorized activity.

Training and adoption:
Organize training sessions for employees, familiarize them with the new system and ensure they are comfortable with the new features.
Results The company now benefits from fast, secure access to its documents, improved regulatory compliance and increased efficiency thanks to AI-powered classification and search. What's more, the costs associated with managing and storing physical documents have been significantly reduced.
Have a Project on mind?
We can help you bring your ideas to life. Let's talk about what we can build and raise together.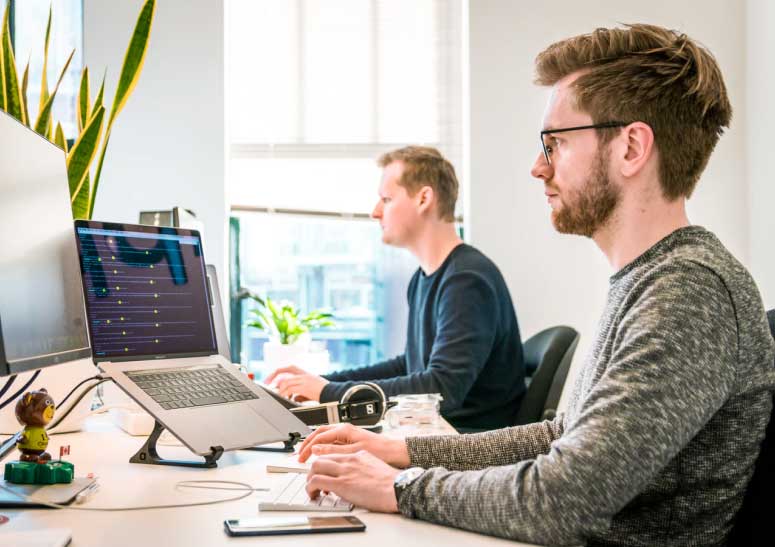 Let us together build a flourishing business
At MEDIA AP, we understand that every company is unique. That's why we offer a comprehensive range of services tailored to your specific needs. Whether it's project management, design thinking, process automation or the integration of artificial intelligence solutions, we're your partner for navigating the digital world.